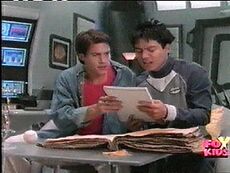 "Escape the Lost Galaxy"
is the 42nd and final regular episode of
Power Rangers: Lost Galaxy
. This episode concludes the Lost Galaxy story arc.
This is Terra Venture's final frontier in the Lost Galaxy. Barbarax captures several citizens of Terra Venture to work in the slave camps, including Mike. Leo and Kai find a way to reopen the portal back to their universe, but Terra Venture can't move fast enough to get through it. Mike frees the slaves and then forces the portal open in Torozord, but in doing so, loses his powers.
As the ream of episodes come to a close, this marks the final appearences of Captain Mutiny, Barbarax, the Swabbies, and the Magna Defender's second post-living appearence.
This episode marked the end of Mike Corbett being the Magna Defender.
The Defender Torozord maybe gone in this episode, but the Centaurus and Stratoforce Megazords will be next in Part 2 of the series finale.
This episode also marked the final appearence of the Galaxy Book.
Trakeena returns at the end of this episode.
Memorable Trakeena Qoute
Edit
Trakeena: "There is only one ruler in this universe, and that's me!"