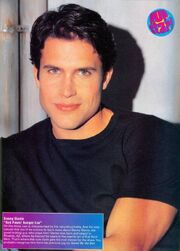 Danny Slavin
is a American former actor who played
Leo Corbett
, the Red Galaxy Ranger in
Power Rangers: Lost Galaxy.
He also repraised the part in the crossovers for both
Power Rangers: Lightspeed Rescue
(in the two-part teamup episode, "
Trakeena's Revenge
") and in the 10th Anniversary teamup special of
Power Rangers: Wild Force
, "Forever Red".
After the Red Ranger teamup episode, Slavin retired from acting and is currently a court judge in Pheonix, Arizona.