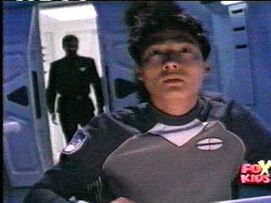 One of Trakeena's monster takes control of Commander Stanton's mind, and has him set Terra Venture on a course towards a star. Only by disregarding the rules and following his instincts is Kai able to discover this plot, free Stanton, and save Terra Venture.
The monster Icy Angel was voiced by Barbara Goodson, Rita Repulsa's voice actress from Mighty Morphin Power Rangers.
Maya and Kendrix do not appear unmorphed in this episode.