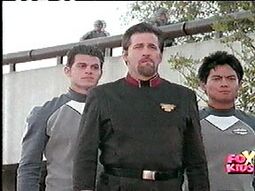 Terra Venture is greeted in the Lost Galaxy by Captain Mutiny, who the Rangers discover runs a slave camp, and is looking to add the colony's citizens to his work force. Mutiny unleashes the Grunchor monster on Terra Venture, which burrows underground.
This episode introduces Captain Mutiny, Barbarax, the Swabbies and Titanisaur.
Captain Mutiny was seen as a brief shot of his back in Power Rangers: Lost Galaxy episode 10- " The Sunflower Search [2][3]", but he was not fully seen back then, because Scorpius destroyed the Magna Defender's homeworld and killed his son Zika.
This episode marks Trakeena, Villamax, and Keglar's last appearence until " Escape the Lost Galaxy ".